It's out!
Saturday, April 16, 2005 12:11 PM I couldn't resist it so I bought it on the spot!

The long awaiting Levis Square cut jeans! Weee! And the best part is, my name is printed on it. HAA! I bought that pair! Patty Anne!

check them out!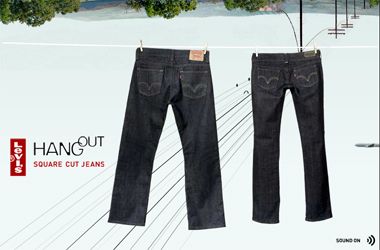 Isn't it nice? I love the flash site!

And the best part is that it's not as expensive as the Ladies Cut jeans. :) Worth the price!

I wanted to do some savings but when my sister drag me for shopping (she got extremely good lobang for Mango), I accidentally saw the launching of the squarecut jeans. I was so excited and rush in to try. The color range is attractive and the size just fits perfectly. And the best of all, it's straight slim cut. My fav! Oh, I just can't stop praising them. :P This is prolly the best cut for Levis ever since the super-duper old 593 and the Type 1.

If you go down to their branch to try their jeans, and I mean JUST to try, you will be entitled for a free rubber wrist band from Levis. In pink and purple. ;)

Go for it now! (I sound as if they are paying me for advertisement. Tee-hee).

------------

I really miss my baby alot. It have been like 2 weeks that we haven't really seen each other. Although the other day he came over to pass me something but it was in a rush. Sigh. Baby, please take care of yourself. And I am so so so looking forward to spend quality time with you. I love you so much! MUAH!
visitors since 2007