:d
Thursday, May 12, 2005 9:02 PM Hello everybody! :)

Thanks for all the concern! It really makes me feel better, mentally. Thou physically I am still not that stable, occasionally still feel faintly and stuffs, I am still good. :D

Been busy with Dad's company exhibition at Singapore Expo as part of the MetalAsia Exhibit. Pretty good respond I should say. Many visitors from the same line visited our booth for enquiries and sales. Old clients and potential customers. Lotsa freebies and live demos.

During the first day of the exhibition, I kinda at a loss as I know nuts about the products we bring in. But on the second day with the help of my Uncle and our major brand representative for Garryson, I can speak with potential customers and intro them to our products. Seems like I have to study hard about all our products!

After 3 days of high heels, my legs are breaking. No more heels for one month! :d

Photos! But kinda boring since it's all about industrial tools. :)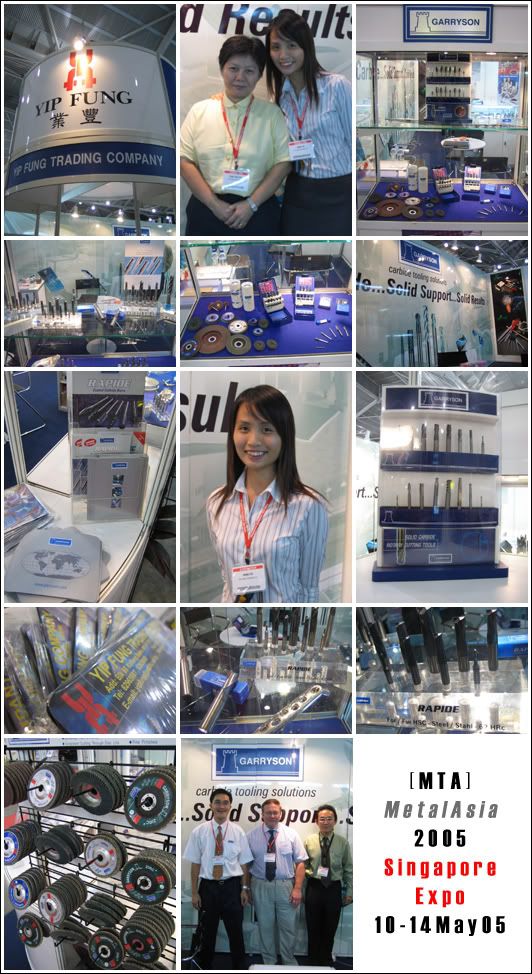 I guess that's about it. :D Good week ahead peeps! And I will enjoy mine with baby!

Okiebye!
visitors since 2007