Week 1 of my SIP.
Friday, May 27, 2005 10:22 PM Finally... 1 week down and 13 weeks to go... omg.

After the 4th day, I am getting quite used to work in the environment. Infact it's quite relaxing to work there. Not much office politics...

But what really makes me VERY unhappy is that, there is this UNCLE just sitting opposite to my seat is really too talkative and irritating. Everyday, he couldn't stop yakking and talking bad about our clients. The worse part is that he talks VERY loudly on the phone and couldn't stop smiling to himself. Grr!

Other than him, the working environment can be quite a good one. But whatever it is, as the only SIP student there, life is still very boring over there. Sigh!

And so, retail therapy is the only solution! :P

I met up with baby to shop for tops a few days ago and bought a few really nice ones and especially a very unique one from Tangs. Baby bought himself a pretty expensive but exclusive top too. :)

Yesterday sister and I went to town for shopping again and we bought a pair of Birkies each. My 2nd pair this year....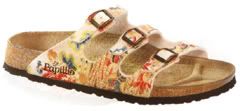 It actually looks much better than this



Wanted to get this since baby says it's nice but couldn't find the size I want...



Sister says this looks good on me but I think it too pinkish... Next time perhaps!

Then we went Mango and I bought 2 bottoms and 2 tops. Omg. I am spending more than what I earn!

.....

Thank you baby for travelling down to meet me up for lunch these few days. :D Thanks for the love! Muah! You're the best.
visitors since 2007