Heeeeeeeeeeesh
Wednesday, October 12, 2005 9:33 PM Not wanting to be a weekly blogger, I decided to write something today. Heh heh...

Just came back from a date with Ling Mei at Suntec. Sorry ah mei, made you walk for so long in your heels. :/

Had Kenny Rogers and I bet mei enjoyed it alot. Except for the tasteless chix. :P We had lotsa catching up and window shopping. Saw this really really nice jacket and am still considering if I should get it... *hint hint*

Finally got the chance to let mei sit in my car. Heh heh! I am sure there will be lotsa of opportunities in future! :)

---

Yesterday beesh and I went to ECP for blading. I don't know why but I really had a great day yesterday. I am just so so happy. :)

He came over to my place and pick me up @ 3 plus and off we go.

You know your boyfriend really loves you when he is willing to take time off and spend wonderful moments with you although he is oh so busy with his school work. :) Thanks beesh!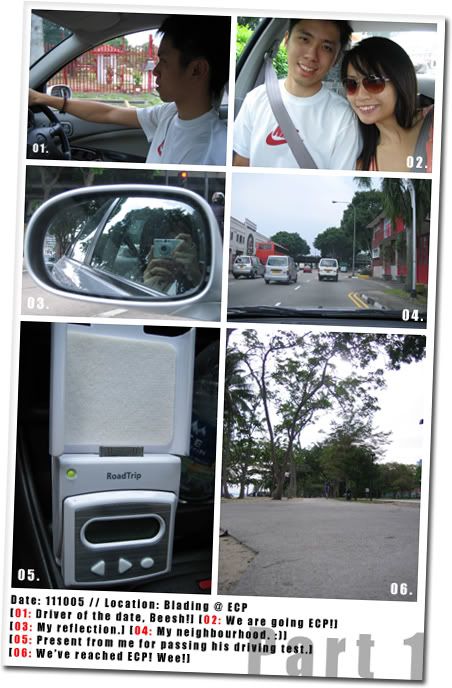 ECP was pretty quiet. Guess it's due to weekday. But it's good for me since I am learning blading and required empty spaces.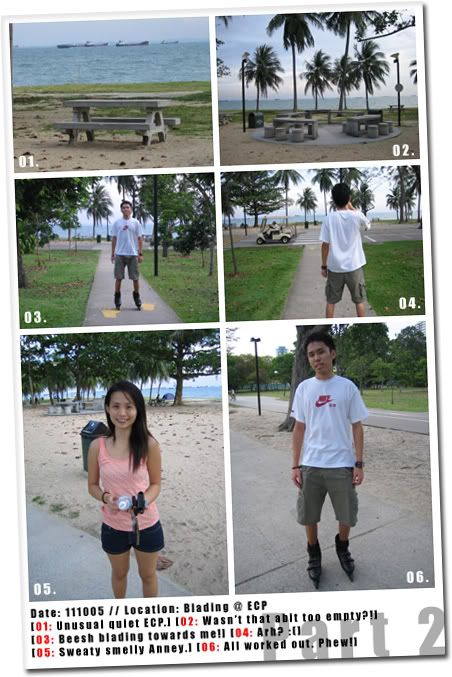 Finally and slowly, I am picking up some skills. But like what the Uncle says (beesh should know who), this kind of sport requires you to fall down a few times before you can master it. Damn. I fell down twice.

You know your boyfriend really loves you when he is willing to hold your hands and fall down together with you while blading instead of waiting to pick you up when you fall down alone. Hee! :)

What can I say? I have the sweetest boyfriend! But I really feel bad when he fell down with me... he had some abrasion on his knuckles and I cried not because I hurt myself but to see injuries on him. :~(

I was taking baby steps but didn't realise I actually blade (ok, perhaps GLIDE is a better word) for a long distance. After the second fall, I decided to walk back to the carpark instead. Really sweaty and all. So, I told beesh to go ahead with his blading while I wait for him in the car. Wah lau... I didn't realise it's that far for me to walk back. :(

After he came back from his blading, we change out of our smelly top in the extremely stinko toilet (yucks!) and zoom off to Parkway for dinner @ Sakae Sushi. So nice so nice!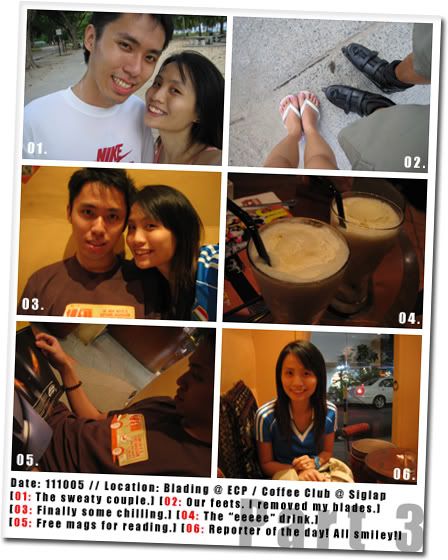 But the dinner doesn't seem to satisfy my piggy boy. So he suggested going over to Siglap for some desserts.

We settled down @ the Coffee Club. The sofa seats were a "woaaa"! Plus there are magazines for reading. Nice place nice place! But the drinks really spoilt our mood. -_- Ok shall not dwell on it.

Thou it's less than half a day, we did so much things together. That's what I call quality time spent!

You know you really love your boyfriend when you couldn't stop smiling and a gush of warmness just rush up to your heart when you think of him and looking at the photos taken together... :)

The feeling is so hard to explain... to love somebody... It's simply so sweet! I wish I could express myself better. But now, all I can do is to look at him in the eyes and say, "I love you".

:) I really do.

Ok, that's all! Tataz!

P.S: Oh ya! I will be attending a Yes933 on-air radio program with the ProjectDiy mates on this coming Saturday 15th of Oct, 5.30pm. Remember to tune in! :)
visitors since 2007