8 days more!
Monday, May 01, 2006 11:40 PM I have this very weird character...

I can never resist getting anything that comes in a pair or a set. For example soft toys that comes in 2 different colours... or in male and female.

That includes blythe too. I am hoping to get all the petite that comes with the neo blythe. Recently Samedi Marche release the petite version. Too cute to be true!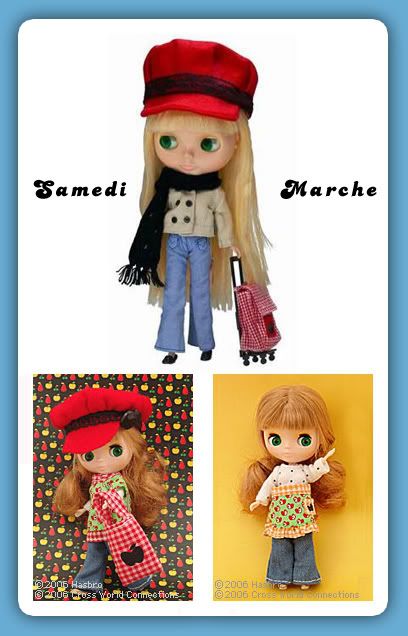 Takara just released the encore for Tea-4-2. And yes! They comes with petite. So now I am waiting for my bidding results for the t42 neo and so I can get the petite too. And rosy red encore is coming up too! Omg omg I can't wait! But I certainly hope they can slow down in releasing new dolls. :




Yesterday when I was out in Town with baby, I saw this pretty pretty bikini that I couldn't stop myself from getting it.





So niceeeeeeee! And it's like getting 2 bikinis with the price of one since it's reversible. So worth it! Too bad the branch at Pacific Plaza ran out of stock for the new piece so I have to collect it from Marina Square today instead.

After collecting, we went to Far East for baby's haircut. After which we went to baby's friend's place to discuss about our Taiwan trip.

Really looking forward to the trip especially knowing that the traveling mates are a bunch of fun peeps! Shop eat sleep! Shop eat sleep!

Ok. That's about it. I better sleep early tonight because we are going Sentosa tomorrow! Wee! Good night! :)
visitors since 2007