:\
Wednesday, May 31, 2006 9:58 AM Eversince baby started working, we meet up most of the time to have lunch together.

Initially when he started working, I was so worried that we might not have enough time together. I got so uptight and paranoid about it. I cried over the slightest thing but to realise that it's my period that makes my emotion upstir.

Like what many lovely friends of mine said to me, whatever hardship my bf is going through now, is for our future. I may be very upset with the fact that we can't spend more time together, he may be feeling the same as well.

Maybe in the past we have been seeing each other almost more than half a day everyday. But now, we only get to meet up for lunch and dinner plus weekends. Come thinking of it, aren't most working couples living with it most of the time?

The poor boy always look so tired and depress after work. It's always hard to adapt especially the transition took place too fast. He didn't get much rest after his final exams and got to start work right after our Taiwan trip.

I don't know what else I can do other than accompanying him for a good meal or two... cheering him up with my stupid joke and clusminess. Last but not least, my assurance hugs and kisses... I want him to know that at the end of the day, he have me to keep him going... I hope he knows how I feel.

Thou travelling to meet him for lunch at times is really a chore... *chuckle*. I took cab for the previous few times but realise the cab fare is really scary as its in CBD (Raffles Place) so I tried to drive there instead. That was my 1st time driving to CBD area, alone. I took an hour to look at the map before I set off and I bump my way there with much guessing. The carpark is SO expensive (bout' S$5+/hr) and so packed! And very narrow! *Shock*

Luckily on Tuesday (Maybe Monday too) I can meet him for lunch since he will be at Tampines and I will be in School. Pretty convenient for us.

The only problem we face is that we can hardly shop on weekdays as baby's knocking off hours is so irregular. Like yesterday, we wanted to get some sports stuff in Town after dinner but by the time we meet up and finish dinner @ Paragon, all the shops close already.

Talking about sports, baby and I thought maybe we can take up another sports so we sort of make do with Tennis. We went around hunting for Tennis racquet and we saw a white one which is really nice and practical. The only problem is the it has flaws all over it. So we thought of going Town for alternatives. Too bad... maybe Thursday ba!

Anyway, I can't wait to see him again on Thursday since tonight I have a wedding dinner to attend and baby won't have time to join me. :|

Here's the pictures of my hair... zomg (LING! HAHA!), I need to straighten it!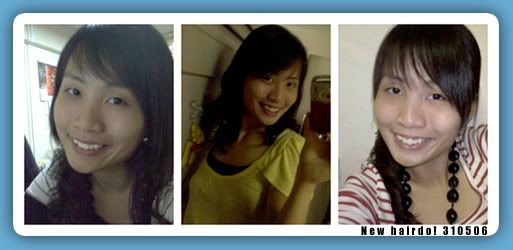 visitors since 2007