Love!
Monday, July 10, 2006 11:24 PM - On Saturday evening, I had dinner with baby and his family @ Harbourfront. His aunties thrown a farewell dinner for his Sister, Michelle, as she is leaving for studies in Australia. It's hard to explain but I will miss her. And I will be worried about her at the same time...

- Yesterday, we had an appointment with Broadway Serangoon for baby's graduation photo shoot. We had the family, couple and individual for baby. A total of 1.6k?! My goodness. I wonder why it's so expensive.

The family shoot was a quick one but the couple and individual were slightly longer. So many poses... as if we were taking wedding photo. Haa... It's tiring to smile naturally but I truly enjoy the experience. I hope they turn out well! If not, waste money liao!

Baby said something which make me feel amused but sweet at the same time...

You know the significant of the shoot yesterday or not... 不可以变了嘞!

I know it means his family's acceptance of me... and I am bond to him for good, for life. I Like!


After the photo taking, baby sent me home 1st because I have to change into something more comfty and remove the cake-y makeup by the studio. Baby then send his family back home and get changed before fetching me again and send me to meet up with a Blythe seller.

This seller is a guy... (And that's why baby insisted of going with me.) and he suggest that maybe I can drop by his place to take a look at the rest of the collection he had. We had a hard time trying to figure his place. It's at Serangoon's Garden. His house is huge and so does his blythe collection. His room is filled with toys... more like a garage sale. He have almost all the limited edition ones... except that he sold his KOZY before I knew him. UGH!

The Nike blythe does attract me but he is selling her for 1.3k. OMGfoiudihfdnoihddf. I must be crazy if I get it.

Anyway, I decided to get a Very Cherry Berry and another Love Mission. Each doll cost me S$180 which is kinda worth it especially for LM. I bought my previous LM at S$255!

Anyway here are the names of my girls and their DOB.

Jennelle (Good Neighbour Cafe) - 30 Dec 2005

Jooeun (Love Mission) - 20 Jan 2006

Jezebel (Samedi Marche Encore) - 14 Feb 2006

Joie (Pow Wow Poncho) - 25 Feb 2006

Jezreel (Merry Skier) - 4 March 2006

Josette (Black Berry Bush) - 4 March 2006

Julissa (Tea 4 2) - 8 May 2006

Jamie (V-Smash) - 22 June 2006

Joi (Rosie Red Encore) - 22 June 2006

Jolin (Night Flower) - 22 June 2006

Joo-ein (Love Mission) - 9 July 2006

JuanJuan (Very Cherry Berry) - 9 July 2006



I can't resist to spoof this! HAHAHA!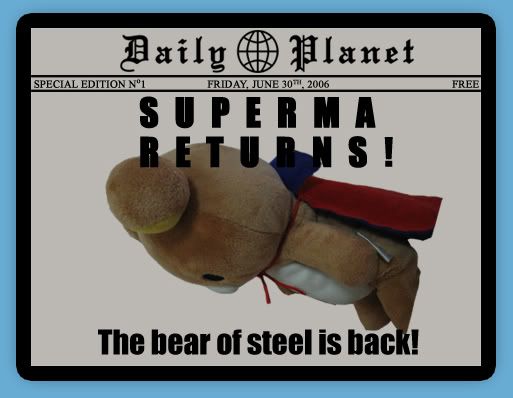 visitors since 2007