Superman VS Batman?
Saturday, July 08, 2006 9:43 AM This is hilarious. I can't imagine how "fitting" it will be to see these 2 super-super heroes on the big screen, together.

Batman will lose out, really. Because he had his mask on where else Superman will show off his handsome face. Who will bother about Batman by then?
Maybe you should try to remove your mask, Mr. Batman.

BUT if Huge Jackman is willing to be Batman, I guess he will probably steal the limelight of Brandon Routh. Yes? Maybe not for me thou. :|




I have thought very carefully about it. Anyone who proposed to me with a Kozy Kape, I will probably marry him. As you can see how much I wish I could lay my hands on her. But then again, I tried to offer up to S$400 for her but eventually no one bears to part with her because she is so limited!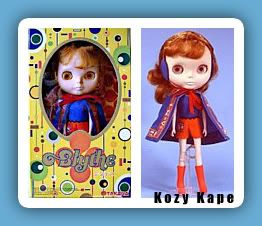 She was produced in the year of 2002 and I guess she will never be re-released again unless Takara is kind enough to have an encore of her. AHHHHHHHH! I am going crazy. ANYONE WILLING TO SELL ME THEIR KOZY KAPE?!

Mr Boyfriend, you better be the 1st one to find Kozy Kape for me. And of course, if you really want to propose, please top it up with a diamond ring too. HEE HEE! Love you!
visitors since 2007